Ever wanted to run your favorite class with a non intrusive rotation suite for WOW? Rotation Lab gets the job done in many ways. Read more at the more information page.
Setup instructions as follows below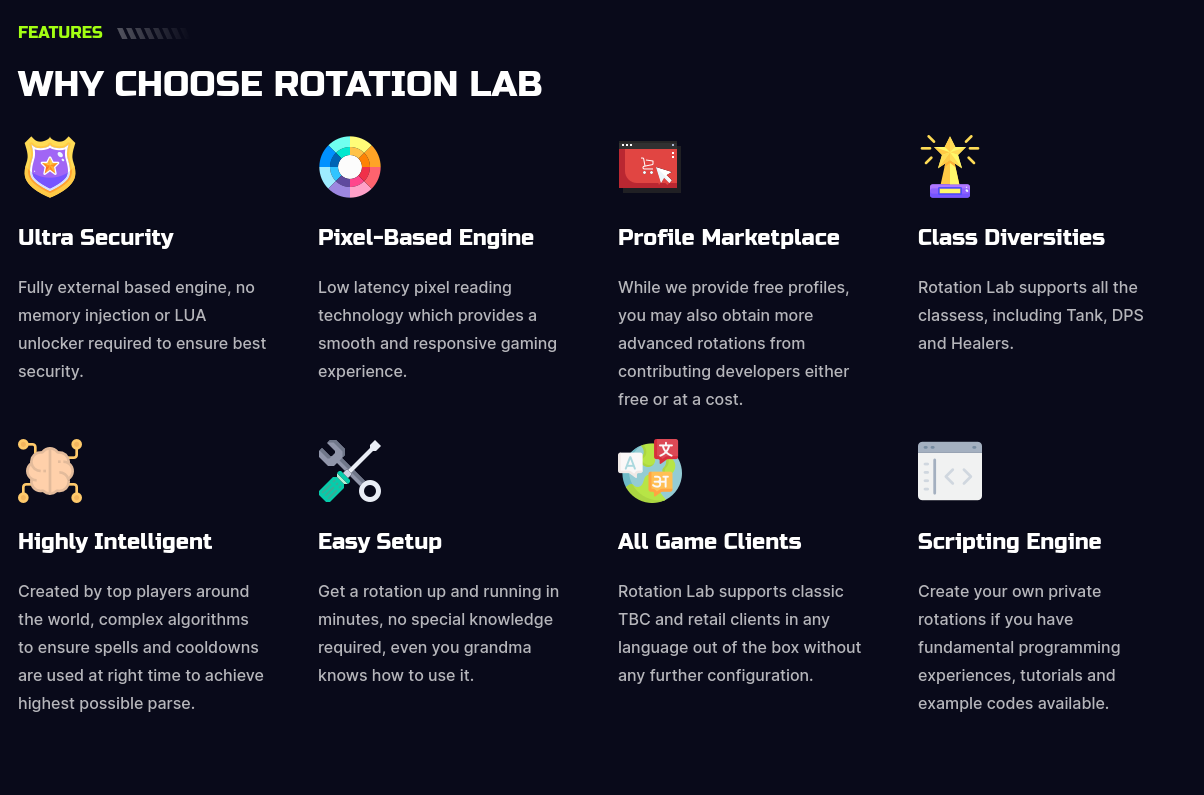 Sign up for Rotation Lab key at our
WOW Rotation Lab sign up
How to setup Rotation Lab WoW Bot​
1. Rename rotationlab.exe to any name you like
2. Login with your username and password (same as website)
3. First time launching the program you may be prompted to restart your PC if driver installation is required
4. Go to Settings -> Global Settings, locate your WoW installation folder and change Game Locale if you are not running English game.
5. Go to Profiles -> Online Repository and load profile for your class/spec
6. You need to setup keybinds if it is your first time using the profile (see How to setup keybinds below)
7. Relaunch WoW if it is your first time using the bot, or type /reload in game if it is not your first time.
After loading a profile, keybinds can be configured in one of two ways:
1. Auto Bind (Easy): Navigate to Keybinds, toggle "Auto bind skills, objects, and macros in game," then click "Bind Random Keys."
2. Manual Bind (Flexible): Open Keybinds, create all the relevant macros in-game (right-click on a macro to copy it), and then bind all of your spells, items, and macros to the bindings you specified in-game.
Note. You only need to do the above if you load the profile for first time.
Common In Game Toggles for WoW Shadowlands & WoW TBC Classic with support for WOTLK​
- AOE: Enable to automatically cast AOE spells if there are multiple enemies (always enable this unless you don't want to break CCs)
- Burst: Use cooldowns that are > 2 minutes CD. (When you get Bloodlust/Time Warp the bot will pop all your CDs automatically even if you don't enable this option)
- Interrupt: Use silence spells when enemy is casting
Troubleshooting Steps​
1. Always try /reload in game and make sure addon is loaded. You should be able to see an in-game toggle menu.
2. If you are not using auto bind, make sure the keybinds matches in-game spell keybinds.
3. If you are using auto bind, try pressing the keys set in bot to make sure the spells fires properly.
4. Make sure there are no addons, Discord, nVidia, streaming software overlay covering the in-game pixel (default top left corner)
5. Try disable all addons except the bot addon in game
6. If not working in windowed mode, try fullscreen.
7. If running dual monitor, try disabling one monitor.
Classic TBC Swing Timer​
You need to install curseforge.com/wow/addons/weaponswingtimer-sixxfix if you are running a physical DPS class in TBC